Investor Relations
Investor Overview
As a world leader in enabling Connected Commerce™, Diebold Nixdorf, Inc. transforms the way people bank and shop. Our integrated solutions connect digital and physical channels conveniently, securely and efficiently. Our customers include nearly all of the world's top 100 financial institutions and a majority of the top 25 global retailers.  The Company is creating value for investors by executing our DN Now Transformation Plan which consists of
Company-wide operational improvements which are driving operating margin expansion.
Steps to optimize the capital structure.
Further differentiating our solutions and pursuing growth opportunities such as managed services, our next-generation ATM platform (DN Series), self-checkout solutions and DN Vynamic software.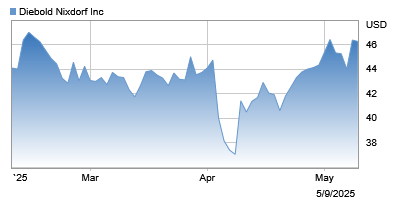 Data Provided by Refinitiv. Minimum 15 minutes delayed.
Press Releases
November 19, 2020
October 29, 2020
October 28, 2020
Presentations and Webcasts
Diebold Nixdorf, Inc. Investor Presentation for November, 2020
Online Investor Materials
Voting Rights Notifications
As Diebold Nixdorf, Inc. maintains a secondary listing on the Regulated Market of the Frankfurt Stock Exchange, shareholders need to comply with German securities laws, which include, among others, the obligation to report, via electronic submission, to both to Diebold Nixdorf, Inc. and the German Federal Financial Supervisory Authority (Bundesanstalt für Finanzdienstleistungsaufsicht - BaFin) without delay, but within four trading days at the latest, each crossing of the 3%, 5%, 10%, 15%, 20%, 25%, 30%, 50% or 75% voting rights thresholds as defined under applicable German laws. Voting rights notifications (and other German securities law – related notifications) should be emailed to the company at VotingRightsNotification@dieboldnixdorf.com.